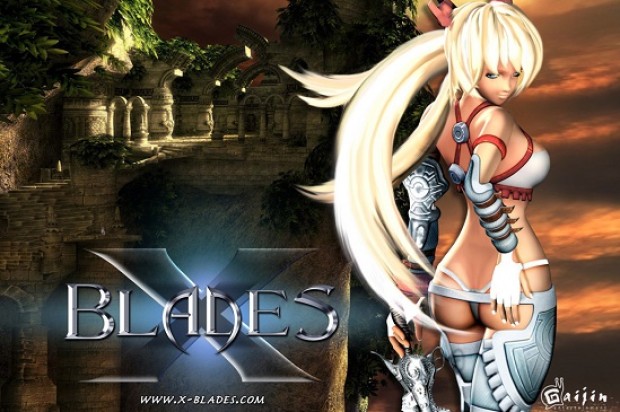 X-Blades is a hack n' slash, action/adventure game brought to life back in 2009 by Gaijin Entertainment, the same Russian group that gave us games like Wings of Prey (remastered from the 360/PS3) and best known for F2P titles such as War Thunder and Star Conflict. This game has had a very trialled past, however, being originally released in Russia in 2007 by the name Oniblade, by 1C Publishing. In '08, Southpeak Interactive announced its remastering to 7th gen consoles later that year by the name X-Blades, having several different release dates for different areas of the world.
Backstory
In X-Blades you play the role of a treasure hunter called Ayumi in her quest to find two long-lost artefacts, valued as priceless, representing the forces of Light and Dark, good and evil. In finding the first one, however, you are struck by a Curse and your new goal is then to find the cure to it. And, in order to get past the constant horde of enemies, you rely in your two gunblades for both melee and ranged attacks. The more you kill, the more Souls you collect in order to purchase magical skills from Fireballs to blade modifications and, depending on which of these spells you purchase and use, you may get a different ending, for Good and Evil. To use these spells you'll need Rage that can be gathered by hitting monsters or getting hit by them.
The looks
Graphically, the game is very lacklustre but you have to remember, this is 2008 and, as far as anime-styled graphics go, these are very reliable. Lens Flare is a must, if you want to make your game a bit believable, but Gaijin took it a step too far, if you ask me, to the point where you are literally blinded by Lens Flare if you look at the sun the wrong way. Yes, blinded by Lens Flare, not the sun itself.
However, the only real thing I have gripes with, and I'm sure not many people would complain about, is the bikini armour on our heroine's skin. Considering she spends 98% of her time in the middle of enemy mobs, I find this not only reckless, but very silly. Not to mention the sex jokes tend to get very old very fast. If I recall correctly, there is a mod out there that gives her more clothing (actual armour, for that matter), but I couldn't make it work properly, so you can blame my incompetence in installing mods, I reckon.
Conclusion
In short, X-Blades is your typical Hack N' Slash title: short, rough and bloody, which is precisely what sells this type of game. X-Blades takes it a step further by making use of a good, albeit short, storyline. And if that doesn't sell you for the game, do it for Ayumi's bikini thong, a constant distraction amidst the myriad monsters horribly trying to kill her.
Pros:
Hack N' Slash
Anime styled
Cons:
Lens Flare Ultra Extreme
Skimpy outfit
System Requirements
Minimum:
OS: Windows XP SP 2/ Vista / 7 / 8
Processor: Intel/AMD Dual Core 1.5 GHz
Memory: 1 GB RAM
Graphics: with Shader 2.0 support and 128 MB RAM (Geforce FX 7+, ATI Radeon X2-series)
DirectX:9.0c
Hard Drive: 4 GB free hard disc space
Sound: DirectX 9.0c compatible
Recommended:
OS: Windows XP SP 2/ Vista / 7 / 8
Processor: Intel/AMD Multicore CPU
Memory: 2 GB RAM
Graphics: with Shader 3.0 support and 256 MB RAM
DirectX:9.0c
Hard Drive: 5 GB free hard disc space
Sound: DirectX 9.0c compatible