With everyone eagerly looking towards the upcoming release of Skyrim on 11-11-11, the information and additional details keep coming thick and fast from Bethesda Studios.
Weapon Skills Overhaul
The first major news is that Skyrim will no longer use the traditional skill ranks for different classes of weapons, and that this system has been completely overhauled. Taking its place is a system of 'perk trees' – following the line of most RPGs within this genre and in theory making it easier for new players to the series to finally get stuck in. This is probably a good change, as TES has always been an incredibly difficult series to master for anyone who wasn't already used to its 'unique' leveling and skill system.
Skyrim's director Todd Howard has also mentioned that they wish to put the most emphasis on making players feel as though they are truly risking their life with each engagement, which can only be good in our book. This includes the implementation of new fight physics as well as giving each different type of weapon its own perk tree which players can customize to develop their character's strengths and weaknesses. By taking this approach the player ends up with more choices, not less, so rather than dumbing the game down Bethesda have opted to make it more in depth, while keeping it accessible.
"There's a two-handed weapon skill, there's a one-handed weapon-skill, there's an archery skill… Because those really are play styles: I'm going to use a one-handed weapon and then either cast magic with my other hand or use a shield, or I'm going to use a two-handed weapon where it's going to fill both those slots.

"When people hear there are perks…Well there are perks, but they're not like Fallout, in that each skill has its own perk tree. So take one handed for instance. The idea is, you have a one-handed skill, and then you can perk that – there's like a skill tree underneath one-handed, and within that there are separate perk areas for maces and then axes and then swords. So opposed to having, say, an axe skill, that is a part of the perk tree within one-handed.

"We think that… gives us a better balance. You can start like 'I like one-handed stuff' and then you start specializing as you raise that skill. Within each of those trees there are different weapon types that you can then get better at… Without saying what they all are, so they actually have a gameplay difference"
Dragon Shouts
Anyone following the developments on Skyrim will have realised by now that Skyrim is all about Dragons. But the question most fans had, was how the player would stand up against these powerful creatures without diminishing them or their power? Bethesda have revealed that the player, as the last of the dragonborn, will have access to so-called 'dragon shouts', essentially an additional line of magical abilities.
Part of the game's story will involve learning how to shout like a dragon. The shouts themselves will be learned skills, and to acquire the knowledge you will first need to scour the game world to learn them one word at a time. Once learned, the words can be used quickly in combat, but holding down the attack button will produce the entire spell for maximum impact. Weaponry and magic are useful tools, but this gift, known as 'the Voice' will likely prove to be your knockout punch.
Game director Todd Howard points out that they've gotten the idea out of the world's mythology:
"It's in the lore..It was like the classic barbarian battle cry. I'm not sure if it showed up in a book in Daggerfall, but it's definitely mentioned in this pocket guide to the empire that we did for Redguard. It was the idea that the Nords had these battle cries, and they would shout at their enemies."
The language of the dragon tongue was on display in the game's announcement trailer, and eagle-eyed readers will now understand what's being signified by the dragonborn's gaping mouth. Whether it causes the face of our characters to be physically deformed or not, the dragon language will continue to play a major part in the story of Skyrim. Bethesda not only had to create the entire language from scratch, but had to make it feel at home in the harsh environments of the Norse culture.
Now that we know what holding 'the power of the dragons' really means, how will that play out in combat? Once gathering and assembling spells from ancient murals across the game world – there are over 20 shouts in all – it is up to the player to choose which to employ against his winged enemies.
Game Informer has gotten the inside info, and according to them, Bethesda is going to have a few surprises in store:
"One power used in the game acts like a sort of invisible push of staggering power. Spoken in the game, your hero will intone the three words for the full shout: "Fus, Ro, Dah!" Translated into English, "Fus" means force, "Ro" means balance, and "Dah" means push.

"He'll be able to slow down time around him with one shout, or use a special whispered dragon shout to stealthily move close to an enemy in a mere instant. And while they're cagey about the details, Bethesda says that one shout will let a player summon an actual dragon, calling him by name to fight."
Whenever a dragon is dispatched by your character, your heritage gives you the ability to absorb the soul of the creature, making your spells even more potent.
Dragons
We've been speaking a lot about Dragons, so one of the most interesting things to look at would be the information Bethesda have revealed on these mythical beings so far. The plot of the game was revealed in a hymn sung in the dragon tongue, recounting the events of the previous games in The Elder Scrolls series that have culminated in the unleashing of Alduin, the dragon who will swallow the world.
Todd Howard sadly confirmed that players won't be getting a chance to ride any dragons through the skies of Skyrim, but that doesn't mean that the terrifying creatures aren't set to exceed fans' wildest hopes. Howard explained that while nearly every aspect of dragons has been seen at one time or another, it's Bethesda's implementations of the beasts that will truly wow their audience:
"We wanted to do them in a way that they were part of the world, and put them on screen and fight them in a way that you conjure up in your head when you read fantasy, that you haven't really seen in a game. And that's what we're trying to pull off- that they are these fierce beasts, that they do become kind of boss fights. Like a mix between a Big Daddy and a helicopter in Half-Life 2… these things that you see coming and you're like 'Oh. Oh no.' So they are really difficult to kill."
The intention of the game's designers is to make dragons the most feared creature in the game, something that could turn even the most hardcore of gamers into screaming little girls. Bethesda's new Creation Engine will be bringing the creatures to life with incredible details, but the technology is only as good as the designer implementing it. Apparently, some of Bethesda's best designers have spent the last two years working on dragons, and their results have exceeded even Howard's expectations:
"We're just ecstatic with how they came out. They can dive-bomb, and breathe fire down a street, they can get on the ground and march around now. They can pretty much go anywhere, so we can call them and do random encounters with them… We can throw multiples of them in a scene… When I get bored with the game, I just summon dragons and watch them terrorize a town. You know, it's always cool."
Howard explained that Skyrim may also be of particular interest to those who preferred Fallout 3 to Oblivion, as its environments will be far less traditional or standard than the last game in TES series. The terrifying take on dragons will make it clear that players will be experiencing something new, and Skyrim definitely looks to improve and modernize nearly every aspect of past games.
Character Classes
One of the surprising changes is that character class choices will be removed entirely from The Elder Scroll Skyrim. According to Todd Howard, the classes will still be there for players to choose, but with Skyrim, they'll be doing away with the clunky manner in which they make the choice. With the new game engine giving players unprecedented amounts of detail and fluid story, the creators are going to make the customization of characters just as natural:
"What we found in Oblivion – you start the game, you pick your race, and you play for a while. Our intent was: you played for a while, you got to figure out some skills, and then depending on how you play… one of the characters asks you 'okay, what kind of class do you want to be? Here's my recommendation based on how you've been playing.'

"And sort of our thought process was, what if that guy never asked that? I was perfectly happy right before then, ya know, I was just playing the game and skills were going up, so we just got rid of that. You justvelay, and your skills go up as you play and the higher your skill, the more it affects your leveling. So it's a really, really nice elegant system that kind of self-balances itself."
BioWare recently revealed they would be removing the robust race and origin aspects in Dragon Age 2, which wasn't incredibly popular among their fans. The initial reaction to this news might have been the same for The Elder Scrolls 5 if Bethesda had gone down this route as well, but Todd Howard assures that the player still has the chance to choose their character's race, along with the skill perks that come with it.
The more complex and nuanced a customization selection becomes, the larger risk there is for a player to get pigeon-holed into a role they didn't want in the first place. Nothing is more frustrating in a role-playing game than realizing you made the wrong play choice and having to start over, replaying events for numerous times. This is actually one of the most frustrating aspects of The Elder Scrolls series and I've often found myself restarting the game a good 5-6 times before actually playing through. You play a little in one class, worry that you are missing out on something and… well you know how it goes.
These are the frustrations that Bethesda has become aware of over the past few years, and Howard believes that adopting a free-flowing, anything goes class system is their best idea for fixing the problem:
"What we found in Oblivion is people would play, and even though they played for a half hour and then they picked their class, it's still – in the scheme of the games we make - not enough time to really understand all the skills and how they work. So people would play, and the general pattern would be they'd play for like, three hours and then 'oh I picked the wrong skills, I'm going to start over.'

"They weren't necessarily upset about that, but to us, someone who's making a game you're like… 'is there a way we can solve that? Is there a better way of doing it?' And we think this is it."
Hopefully Howard's explanation will help to quiet the storm of fan outrage that was undoubtedly brewing. Unlike the previous changes to the game, this seems to be targeted at those already familiar with RPGs, and previous games in the series. What may seem like taking power away from players is Bethesda's idea of giving them even more. You won't have to make the initial decisions that force you to restart so often, but you do still choose the exact type of fighter your character will be. You can put all your skill points into one type of combat, or you can mix between magic, ranged and melee as much as you'd like. Regardless of these choices, you still have your voice as well.
We hope the decision Bethesda has made will pay off, as we do agree the game was a little too complex and arbitrary at points. Other games in the genre have showed that this kind of system can work very well – so fingers crossed!
Babies
The very last piece of news isn't so much about the game itself but rather about an odd marketing scheme Bethesda is using to promote their game. A post on the Bethesda Blog revealed an interesting 'quest' for fans of the series. If you are a truly devoted fan, and I suspect for this one your partner really has to be as well – you can get an 'unknown reward' from Bethesda by 'simply' giving birth to a child on the game's release date (11-11-11). In addition to this, you will have to name your child 'Dovahkiin', which means Dragonborn in the new language Bethesda have specifically developed for Skyrim.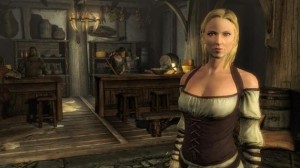 Now we know that people do some pretty crazy things for their favourite games, but to get your hands on this reward you have to be slightly insane. Since the reward is completely unknown, you really have to decide whether or not it's worth doing this to your child. Once they grow up and ask you what their name actually means, telling him/her that he/she was conceived purely with the aim of wining a competition might not go down too well. Bethesda did add the following disclaimer:
"And with that, we have possibly doomed a child. I'd say this calls for a hefty disclaimer.

"Disclaimer: Any reward for completing this quest will not ultimately justify the potential teasing your child could — and probably will — endure over its lifespan. Bethesda Softworks is not responsible for your parenting. You may gain experience points for completing this quest, but you will not care at 3am on a work night. Completion of this quest may also result in decreased desire to play video games and/or function as a human being. Consult with your friends before embarking on this quest; while it may not start in prison, it probably ends there."
Undoubtedly there will be some people who protest against this form of marketing. Personally, I think it's slightly on the edge of ethical as well, and that's coming from a huge Bethesda/TES fan. Regardless of what we think, some nutter will probably give this a go and might even succeed. I for one will be pretty amused if the reward ends up to be some horse armour. Hah, bet you didn't see that coming? Enjoy your oddly named child!