The recreation of the casino within gambling websites and apps, has been in full swing for quite a while now. Since the dawning of the digital revolution, betting companies have been trying to open our eyes to the joy and convenience of playing casino games online. To give them their credit, playing poker and slots from the comfort of your armchair has proved to be a popular new way to gamble, but there are still some aspects of visiting casinos that are missing from their online brethren.
A trip to the casino has never been purely about the winning. It is, in fact, billed as a 'night of entertainment', with drinks flowing, a party atmosphere, music and laughter. This can be hard to recreate online, but slowly we are starting to see some of the secondary appeal of the casino popping up in our browser window. A perfect example of this would be
the Slot Races game by 888 Casino.
The first multiplayer slots game
Slot Races is the first multiplayer slot game at 888casino to grace the internet, and involves players trying their luck on the slots during a timed competition, with the winners moving forward to receive a share of a prize fund. This way of playing not only adds a sense of community to an otherwise solitary game, but it also scratches our natural competitive itch at the same time. In a sense, it brings one of the secondary aspects of the casino to your home. The competition that you could feel with the guy or girl at the other end of the poker table, can now be experienced from the comfort of your armchair while playing slots.
The rules of Slot Racing are pretty simple, and a quick game or two will get players up to speed in no time at all. The aim is to spin and win as many points as possible before the time limit runs out. There are a few rules to be aware of though:
Bet Amounts – Each race has its own unique minimum bet requirement. Spins below this will not accumulate points for the race.
Active Race – Every race has a time limit. Spins played before or after the allotted time will not count towards your race total.
Race Spins – Only spins up to the maximum number specified for each race will accumulate race points.
When it comes to winning, the player with the most points wins the race and will be granted their reward instantly. Races are full of points boosting features, which allow you to fly up the rankings with fewer spins. For example:
"Win" – Payout is up to 5 times your bet amount = 5 points
"Jumbo Win" – Payout is between 5 times and 15 times your bet amount = 50
"Monster Win" – Payout is 15 times or more your bet amount = 500 points
"Double Jumbo" – Get two Jumbo Wins = 100 points
"Super Booster" – Hit one of the game special features – (Bonus Round/Free Spin/Pick Me) = 500 points
This new twist on an old classic is a shrewd move by 888 Casino, and one that we will no doubt be seeing replicated by their rivals in some way or another very soon. Modifying classic games to further appeal to previously uninterested customers, especially in a way that makes it more social, will increase the user base much more rapidly than a game that is played in digital solitude. The competitive side of Slot Races (an otherwise noncompetitive game) brings a fun new dynamic that can actually be more fun that playing the slots at a physical casino.
Sometimes, only a tweak is needed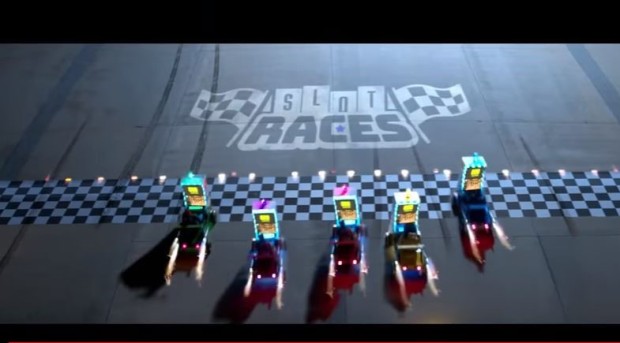 And therein lies the beauty of games like Slot Races. It takes an already tried and tested game, and improves upon it. Whether 888 Casino or other companies use this technique on other casino games will be interesting to see, but it doesn't take much imagination to see perhaps a competitive Roulette game that enables people to battle it out in a timed event, with the biggest winners moving on to take a share of a jackpot.
Another reason for the interest surrounding Slot Races and other online casino-style games, is that they are breaking down the barriers to entry. Where as some people may find the idea of casino games 'old fashioned', or even a little intimidating to the newbie, playing these games at home, with new twists, should get even the most sceptical non-gambler a little more interested, in much the same way that apps like HQ have invigorated a new generation of young people to take some interest in TV Quiz shows (albeit interactive ones).
HQ is in fact an extremely good example of how a slight revision to an existing form factor can revolutionize a product. With around a million viewers per episode, HQ has become a cultural phenomenon by once again, dropping the barrier to entry by allowing players to sign up with Facebook, and within minutes, they are staring in their very own TV Quiz.
Whether 888 Casino does start to play around with or modify other classic casino games is yet to be seen, but no doubt the success of Slot Races will reflect in their upcoming titles. The competitive nature of the game could well bring in a new breed of gamblers, ones who will be looking to compete on multiple fronts rather than just the slots. But for now, you can consider Slot Races a taster of what is to come. If you enjoy the slots, competition, or simply the chance to win some prize money, Slot Races is definitely worth a try.