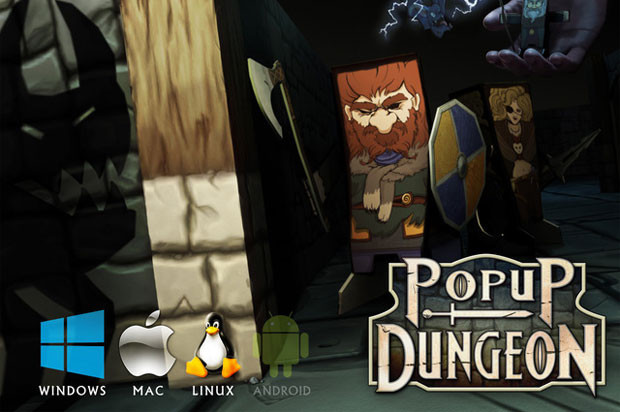 Popup Dungeon is a procedurally generated roguelike with several inspired twists. The first is that you can make anything and the system will balance it. Want nyancat's face on bullwinkle's body wielding a tommy gun that shoots ice beams? It can all be made through their system. The second is the unique art style, creating the a game for PC that feels like it took a dungeon master a long time, a lot of cutting, and several reams of cardstock to create.
This is Tripple B's second Kickstarter, the first (Ring Runner) was funded and completed, showing at least one step in a proven track record.
Key Features
Roguelike: permanent death, quick gains, procedural dungeons
Tactical Turn-Based RPG: fast-paced, strategic game play
Infinitely Extensible: Users can easily create: weapons, abilities, characters, and enemies.
Papercraft: We hand-fold every pixel to ensure every dungeon is fresh and lively for you!
Multiplayer: Hot Seat or Online Coop (Versus mode is a Stretch Goal)
Flexible Party Size: Dungeon Crawl alone or with a party
Variable Challenges: Choose the dungeon crawl that's right for your schedule, fromsingle-seaters to infinite descents.
Persistent Gains: Charms awarded by The Wizard after a run are permanent and give every character under your control a bonus. They are quite magical. Collect and combine them to achieve curious effects.
Experienced Team: Made by Triple.B.Titles, an independent studio that has previously taken a game from Kickstarter to Steam.

You can find Popup Dungeon on Kickstarter right now.