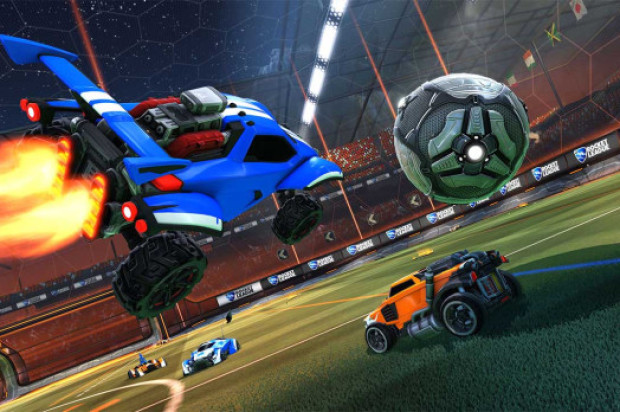 All gamers are aware of the success currently being experienced by the multiplayer survival game, Fortnite Battle Royale, but what other multiplayer games are out there to try that offer a great multiplayer gaming experience?
Rocket League
Rocket League is a multiplayer soccer game, interestingly played in vehicles. The game was first launched on the Playstation 4 as part of it's subscription service. The game was an instant hit and has now extended it's platform reach to Xbox One and PC.
The game involves playing soccer in rocket powered cars, a concept that whilst it might sound a little odd really does work. The aim for the players is to get the massive ball in the goal of the opposition, like in a real life game of soccer, whilst preventing the opposing team from doing so.
Overwatch
Overwatch is a cross platform, multiplayer, team based, shooting game. Players are split into two teams of six and each player must choose from a roster of 20 in game 'heroes' to play as. The roles of the players are divided into categories; defence, offence, support and tank. Each team must work together to win and then defend control points across the map. It was created by the developers of World of Warcraft and has been described as looking like a 'Pixar inspired shoot up'.
NewTurf
NewTurf is a new and innovative, online multiplayer horse racing game, that can be played directly from a browser. The player has the chance to join a thriving community of online players and breed, train and ride their virtual horses against opponents from all over the world. One can argue that horse racing is just about horse, jockeys and of course having a bet on the races with one's favourite online bookmaker like Betpoint. However, New Turf is not only entertaining, but offers a more wholistic and interesting view of horse racing.
NewTurf is set apart from it's competition in multi player horse racing games by it's breeding feature. To succeed in this game the player must have a combination of investment, good observation, research and old fashioned luck to succeed in breeding a winner. All accounts and transactions on the game are done with real money, giving the player a chance to have some fun, but also win some real cash as they compete against others in this online horse racing game.
Rainbow Six Siege
Rainbow Six Siege is one of the instalments in the Tom Clancy first person shooter franchise. It is a multiplayer shooter game which when it was first released didn't receive fantastic reviews. However the updates over the past couple of years to the game in the way of free content, patches, updates and player friendly features has really seen it's user base increase and it has become one of the most popular shooter games out there.
It is now one of the most content rich and diverse shooter games. Players receive points for securing objectives and working together as a team, which prevents players from not treating it as a standard death match, which has become commonplace in multiplayer shooter games.
Dying Light
Dying Light is the first person zombie apocalypse survival game, with a horror adventure setting, published by Warner Bros, available cross platform. The game is based upon an undercover agent infiltrating a quarantine zone, looking to survive and defend himself against a growing, infected population. When the game is played in the online multiplayer mode up to 4 players can take part at once. This mode allows players to play together to destroy infected nests and survive attacks from the designated 'Night Hunter', whose goal is to deplete the collective life pool of players.