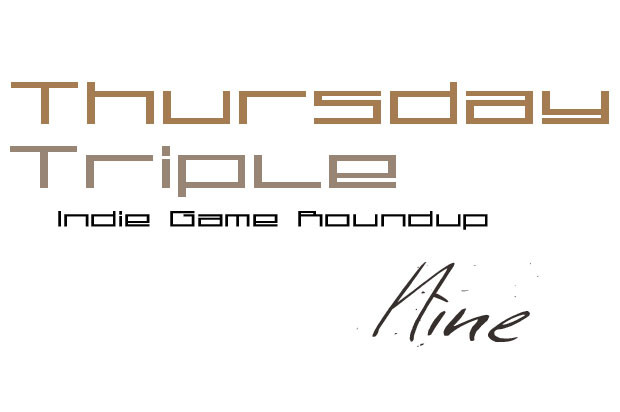 Thursday Triple is a weekly roundup of Indie Games from around the Net.
It is with great bias that I say simplicity is often the mark of great design. The puzzle games that can take one concept and build a satisfying collection of levels are, by far, my favourite to play. But it's not just puzzlers that benefit from a core ruleset – the most gratifying complexity comes when the game gives you all the tools and it's up to you to figure out how to best use them.
Circuits
By Digital Tentacle
Some people find puzzle games frustrating. Others, a contrivance built with the intent to lengthen gameplay. Though from time to time, especially in the midst of a hectic schedule, these little puzzlers can be rather cerebral and a good way to take your mind off of work. A cleverly crafted one will even steal your attention long enough for you to forget you had assignments due (which, now that I think about it, may not be the best thing ever in the quest against procrastination).
Nevertheless, I'm a big fan of clean puzzles, and as I need to replace the ones that I have solved to completion, Circuits seemed like a viable option. It's dubbed as a musical puzzle game, with the player weaving parts of a song together to finish levels.
Its Steam page is a rather sparse when it comes to details, but it could definitely be something worth checking out if you have an hour or so to kill.
Circuits is now available on Steam for $2.99.
0RBITALIS
By Alan Zucconi
Speaking of puzzle games (for those who find the mere concept tedious, please bear with me), 0RBITALIS is a gravity simulator. You've got one shot, one click, to send your satellite into the perfect orbit, balancing the pull of planets, asteroids, and stars to stay alive for as long as possible. Thankfully there is a trajectory predictor, so you're guaranteed to not die at least in the first couple of seconds.
If you're wondering if this is for you, there's a version of it on Battlegrounds (linked on his site) that you can peruse. I had a go at it while delaying the writing of this – you can say that's probably a contributing factor for why this article is late (sorry!).
Forewarning: that is a zero in the title, not an O.
0RBITALIS is now available on Steam Early Access for $2.99.
Armello
By League of Geeks
But for something that will last a bit longer than your average puzzler, there's Armello, a beautiful digital rendition of what is otherwise a card and board game. Set in a fantasy land filled with animal houses (literal clans of animals), you play as one of the representative heroes in a quest to take the throne. The King has fallen ill and through your choices – whether that be by martial strength, ingenious scheming, gathering relics, you name it – you'll carve a path towards your ultimate goal.
There's a lot to check out here, from the way you build your hero's stats to how cards and dice factor into combat. Of course online and local multiplayer will be supported, along with a slew of ancillary goodies. Roll over to their Kickstarter page to read more.
Find Armello on Kickstarter now.