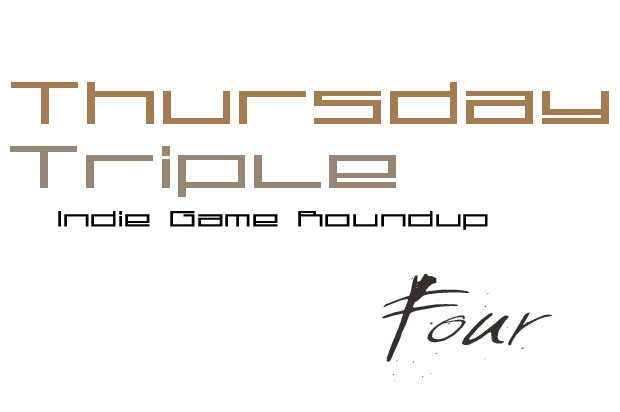 Thursday Triple is a weekly roundup of Indie Games from around the Net.
Woah. Apologies for the late update this week. I looked away from my desk for a moment, and when I looked back, a great wave of paperwork swept me into the perilous lands of all-nighters. Nevertheless, here's a pair of super cheerful games to brighten up any day.
New Release – Spy chameleon – RGB Agent
By Unfinished Pixel
Oh my. This is the most adorable sneaky chameleon I have ever seen. Granted, I haven't met many chameleons in my life, but this little bugger is certain to bring a smile to your face as you watch him bounce his way through various stealth gauntlets. You'll need your reflexes to swap between colours, camouflaging with the environment to avoid being detected by a collection of enemies.
It's cute. It's quirky. And if you watch the video below, it's almost like this Agent hops to the rhythm of that smooth bass. For anyone looking for a vibrant arcade-puzzler, go check this one out!
Spy Chameleon – RGB Agent is now available on its website (link above) for $3.99 during the opening weeks.
Steam Early Access – Nom Nom Galaxy
By Q-Games, Ltd.
I had to look at this one for the title alone. Based on previous experience, I expected this game to have absolutely nothing to do with noming. Hilariously enough, I was wrong.
Nom Nom Galaxy puts you in the context of an employee working for the Soup Co., the company with the best trademark ever. Your job is to explore planets in search of tasty ingredients in the quest to create delicious soups for the people back home. As a fervent supporter of soup, I give this premise a solid A+.
With planets that evolve as you build your base, hundreds of soup recipes to discover, and numerous corporations to fight against for cuisine supremacy, this game promises zany fun in bite-sized packages.
Nom Nom Galaxy is now available on Steam Early Access for $19.99.
Up and Coming – Glitchspace
By Space Budgie
And now for something completely different, Glitchspace is a first person game where elements of computer programming are used to solve visual puzzles. As a traveller in this realm built upon accumulated glitches in cyberspace, you'll have the opportunity to find and exploit said glitches and figure out your own ways of approaching challenges.
The game is in Alpha right now, though it has the potential to be a very unique experience. I hope Space Budgie continues to add to the list of functions you can apply to objects. How awesome would it be if this could introduce concepts of programming to players?