We've been hearing a lot about Brink, the post-modern tactical FPS by Splash Damage and Bethesda over the last year or so, and are getting pretty excited now about its Q1 2011 release. The story is set in a future where all dry land is submerged under the rising oceans of Earth.  The remnants of the human race seek refuge on a massive ark, a city made up of hundreds of separate floating islands existing in isolation from the rest of the world, filled with the ark's founders and their families, and thousands upon thousands of refugees.  There is, as you might imagine, widespread civil unrest on the arc and after 25 years of unrest, the city is on the brink of full-on civil war.  You fight as either the authoritarian security force or a member of the freedom fighting resistance movement, to decide the future of the human race.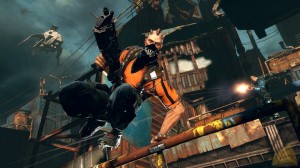 It is Splash Damage's intention with Brink to create a blend of single and multiplayer, allowing players new to FPS to start off easy in a coop environment, whilst keeping gameplay challenging enough for the hardcore – the devs have explained that they like to think about the gameplay in terms of being solo, co-op or competitive, rather than single or multiplayer. Indeed the game will be played on a drop-in/drop-out online play basis so you should never suffer from uneven numbers when people drop out mid fight.  The class-based mission system allows players to accept missions using a "toggle" system.  These missions, when completed, will allow the team to progress further in the level and gain extra points. If other members of your team are working on a mission at the same time, these will appear highlighted in the mission toggle menu, allowing you to easily work together with your team even if you do not know the other members of it, almost forcing cooperation to some extent.  Because of the mission system, teamwork is key to Brink unlike many other FPS games – here a strong team consisting of a variety of class types, working together to move forwards – some standing back in defense or acting as medics while others attack, or some guarding the position while another hacks systems – will invariably be stronger than a team of individually good players who run around on their own without a plan.
The character creation looks pretty extensive – if stylistically limited to the edgy, exaggerated macho men in masks or war paints.  It's definitely a distinctive character style, and fits in well with the detailed, vibrantly colourful environments.  As mentioned previously, the missions are class based, and players can actually change their class whilst keeping the same character – and needn't wait until the end of the map to do so.  You can simply change class at a rearming station, keeping your existing character.  The four character classes themselves are pretty standard fare – the Soldier (tankish assault combat guy), Medic (self explanatory), Operative (stealth/covert ops) and Engineer (hacker and explosives expert). Each class can be advanced by gaining xp while playing as that class, but you do also get global advancement no matter what class you're playing.  Each class has a selection of missions that they can choose from, many of which are team based although there are also some solo missions.
The S.M.A.R.T system – the "Smart Movement Across Random Terrain" parkour-looking movement which got many people so excited when it was first shown – seems to have taken second place during development to the team-based elements of the game.  You can jump to otherwise unreachable locations and jump over obstacles and such, but the gameplay is about using the S.M.A.R.T. system, well, smartly.  You need to find opportunities to use the system in a tactically advantageous way – such as getting round the side of the enemy to flank them, or maybe getting away from them to avoid contact if you're on your own against a group, or to more quickly reach your mission objective.
All in all Brink looks set to be a little bit different from other FPSs and the mission system definitely looks like it will make it a bit more accessible to newcomers.  Being able to help out your team mates in other ways than plain shooting will be a boon to the less accurate shooters amongst us, who despite our lack of mad skillz still enjoy the FPS genre, but are afraid to play online for fear of running into those trash-talking 12 year olds who manage to kick our ass at every turn without breaking a sweat.  This is what Bethesda and Splash Damage are trying to achieve, so I for one – and I'm sure many other noobs like me – really hope they pull it off.