Given that there are a ton of multimedia player software applications available for free download on your Windows PC, it can be difficult getting the most compatible one that supports different file formats and stream videos on your computer. Key functional features such as a user-friendly interface and intuitive setup are things every user should check out when deciding on the most suitable multimedia player. Here are seven of the best free media players.
1. VLC Media Player
When it comes to choosing the most efficient open-source multimedia video player applications, you should definitely opt for VLC Media Player. Created by the VideoLAN project, VLC Media Player is known to support a large number of audio and video compression and file formats, and it is likewise often used as a streaming media player available for free download on all platforms.
With its fast and simple nature, the interface is very user-friendly and functional as it gives you a variety of features and different customisation options such as subtitles, audio and video syncing. Picture and sound filters can also improve your viewing experience and enhance the outlook of your media library. This amazing Windows Media Player alternative has relevant updates and a large user community so users are kept in the loop of what is new and have a support group when they need information on the workings of the VLC application.
The VLC Media player 64 bit is available for download on freewindows10.download, as well as any other media player you may be interested in.
Features that set VLC apart:
Free and open source
Available on almost all platforms
Connect to radio channels
Supports subtitle SRT files
Supported Platforms: Windows 10, Windows 8.1, Windows 7, Windows Vista, Windows, and XP
2. Kodi
XBMC, which started on Xbox, is a free app now known as Kodi. This software is designed as a media centre application compatible with Windows platforms and file formats. It is an impressive media hub that supports playing and viewing on a plethora of audio library, video, and image files while giving you organised and immediate access to your media files.
You can also change the outlook of your interface using skins which modify theme, colours, the position of menus, etc. Because it is also set up to work anywhere within your house, you can use either a smartphone app or link to your remote control too.
Kodi is set up to unify and organise videos, images, TV shows, music, social media feeds, and other live stream sources like YouTube, iTunes, Vimeo, Twitter, Netflix, etc. for centralised and easy viewing.
Kodi is legal and safe to use, but with the add-ons there's the likelihood of some form of a malfunction occurring on your hardware. Careful checks when downloading any add-on is key. So once you can get past the configuration stages after downloading the software and set up the right sources and add-ons, Kodi is your ultimate media centre plug.
Features that set Kodi apart:
View and stream photos, videos and listen to music on one platform.
User-friendly, slick and easy to use interface.
Intuitive interface; automatically scans all your media and creates a personalized library.
Upscale picture quality.
Supported Platforms: Windows 10, Windows 8.1 and Windows 7
3. GOM Player
GOM Player also known as Gretech Online Movie Player is a free for download media player alternative that comes with inbuilt support for the most popular video and audio formats like AVI, MKV, MP4, FLV, MOV, etc. Aside from the basic functionalities found available on other popular Windows PC media players, GOM Player comes with more advanced features like A-B repeat, Media Player Capture, speed control, audio, and video effects. It also gives you the choice to change skins giving GOM Player a highly customised outlook.
Using GOM's library, you can download lots of subtitles and enjoy movies and TV shows in your preferred language. In some instances however it is possible that this media player software might not support some uncommon types. Where this is the case, GOM Player's Codec Finder service will let you search for the missing codec.
Features that set GOM Player apart:
Codec and subtitle finder
Clean and colorful interface
Supports 360-degree video
Bundled extra software
Supported Platforms: Windows 10, Windows 8.1 and Windows 7
4. PotPlayer
PotPlayer has been able to earn a good reputation in recent times alongside other key compatriots. This multimedia software for Windows was developed by a South Korean internet company, Kakao. PotPlayer has multiple features and specialities that can easily give compete with VLC. This recommended media player comes with a ton of customised options enabling you to use it as it is most suitable for your needs.
Using techniques like CUDA, QuickSync, and DXVA, PotPlayer can deliver maximum performance and speedy experience.
PotPlayer might be less popular in comparison to VLC, but it supports more file types such as MP4/FLV/AVI/MKV. There is an option of choosing between sound cards, bookmarking favourite scenes and previewing them. It also contains filters for brightness, contrast, hue, noise reduction, different built-in keyboard shortcuts, and hotkeys. Overall, PotPlayer is your best bet if you want to ditch VLC Media Player.
Features that set PotPlayer apart:
Attractive interface
Better audio performance
Variety of customization options
Ability to choose between two sound cards.
Supports different devices
Supported Platforms: Windows 10, Windows 8.1, Windows 7, Windows Vista and Windows XP
5. KMPlayer
KMPlayer is an impressive and reliable media player supporting every mainstream audio and video format. In addition, users can add external codecs using this tool. With the video capture feature, users can take screenshots while watching videos and save them as jpg files.
KMPlayer can also play high-resolution video files such as 3K, 4K, and UHD giving users the pleasure of enjoying high definition videos on their devices. Likewise, it also offers cool audio and video effects that allow you to personalise and enhance the overall watching experience on your Windows PC. You can select the parts of videos to make favourites, edit subtitles, repeat videos, remap the keys for remote interface, and a lot more. After its release in 2002, KMPlayer free media player was acquired by the Korean streaming company Pandora TV in 2007.
KMPlayer main features include:
Supports many different formats.
Simple and easy to navigate UI
Rich media organization
Very customizable
KMP Connect feature
Supported Platforms: Windows 10, Windows 8.1, Windows 7, Windows Vista and Windows XP
6. ACG
ACG Player supports every popular video format and with bare-bone UI ACG Player can run smoothly even on a low-speed PC. Containing features like gesture customisation, music visualisation art effects, multiple window mode, customisation UI buttons, and playlist management, ACG stands as one of the best media players for Windows 10.
Being a lightweight media player it comes with all the essential features like audio and video effects, music visualiser, art font subtitle, gesture control, and background music. ACG also supports most media codecs out-of-the-box and follows a strict policy. The Windows store comes with a lot of impressive applications, and ACG Player is surely one of the top apps perfect for those who use a touch screen.
Features that set ACG Player apart are:
Gestures based customizable playback controls.
Supports many media codecs
Lightweight experience
Touch gestures and interface
Minimalist design
Supported Platforms: Windows 10
7. Media Player Classic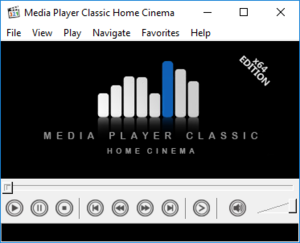 Media Player Classic is another time-tested media player worth mentioning on our list. Media Player Classic has a Home Cinema version that will suit regular users and a Black edition version for pro users. The Home Version offers everything a regular user may require. It is lightweight and consumes fewer resources.
This media player may be used on an old computer and converted into a media consumption device. The Black edition version on the other hand is more feature-rich and complicated to use. Media Player Classic is arguably the best media player for Windows 10 currently available on the market.
Media Player Classic features include:
Customizable toolbar.
It requires very low resources.
Simple and clean UI.
Cover image by: Tracy Thomas